City College Times wins big at journalism conference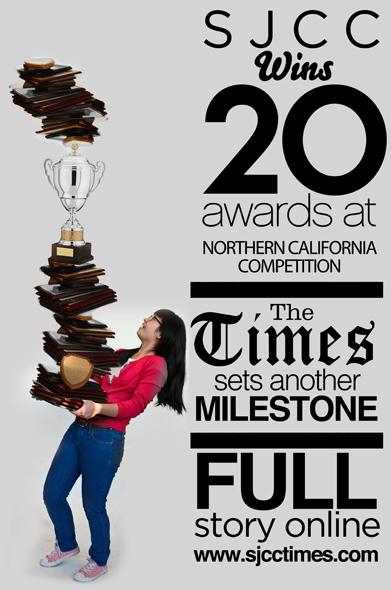 Photo Illustration by Mark Sheppard
The San Jose City College Times won 20 awards from the Journalism Association of Community Colleges NorCal Conference in Sacramento on Sept. 22.
The JACC is a non-profit educational corporation that recogizes excellence in journalism at community college newspapers throughout California.
Photo editor Steve Hill won two first place awards for the Times in two sections: Feature photo and online photo essay. Hill also won second place for online photography and online photo essay, as well as third place for the bring-in photo section.
"We obviously have a very strong Journalism Program at SJCC since we continue to be recognized around the state for our work," Hill said. "I would really like administrators to take note that this year the City College Times has won at least 25 state and regional awards."
Editor-and-Chief Mark Sheppard won an award for on-the-spot news photo of the keynote speaker and Managing Editor Linh Nguyen won an award for on-the-spot news writing, which covered the keynote address.
Sheppard said he intends to win as many awards as possible in the next conference.
"It was an amazing experience. I didn't expect to win at all, let alone three awards," Sheppard said.
JACC president Mary Mazzocco wrote in an email that campus newsrooms are a place where students can practice skills such as arriving on time, behaving professionally, working as a team and getting a product out on deadline.
"I think that journalism students in the community college system have an advantage over many others in that they are more resourceful and assertive," wrote Peter Hernandez, 21, a journalism student from the Guardsman newspaper of City College of San Francisco..
This year, JACC of Northern California conference offered more than 15 workshops and five on-the-spot contests. More than 200 students from 18 colleges from the Northern California area gathered and competed at the conference.
"Students benefit from conferences in a lot of different ways," Mazzocco wrote. "For some, it's their first chance to work under intense deadline pressure in competition with other journalists to get the best story, photo or cartoon done. For others, it's a chance to meet four-year faculty or professionals who can advise them on their career goals."
Two students per school can enter each competition. Each student can compete in two different contests.  The SJCC Times only had four attendees to attend to five different contests. The staff lost six chances to win the competitions at conference.
"It shows not only our commitment but also our producibility," Sheppard said of the twenty achievements of the Times.
At the beginning of fall semester, the Times was threatened to be cut if the enrollment requirement of students was not meet. With 20 staff members working in the newsroom now, the Times survived and continues its job as watchdog of the SJCC community.
The next issue of City College Times will be out on Oct. 23.