Up, up and away
Analicia Najera
April 24, 2012
[media-credit id=5 align="alignnone" width="400″]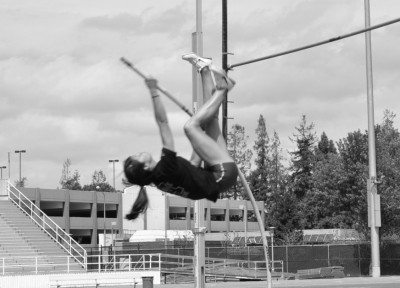 [/media-credit]
Diamara Planell Cruz practices pole vaulting techniques at San Jose City College on April 12.
Diamara Planell Cruz joined theSan JoseCityCollegetrack team this season and has already reached the newCaliforniaStateCommunity Collegerecord in the women's pole vault with 12 feet 7 1/2 inches in the Collegiate Section atStanfordUniversityon April 6.
"Setting it this early is impressive," track and field head coach David Flynn said. "Her work is unbelievable, and she is an amazing athlete."
Her assistant coach Brandon Vance said she needed to compete with Div. I athletes and that was why Stanford was a good meet.
Before pole vaulting, Cruz was in gymnastics for seven years.  She said her school in Bayamón,Puerto Rico, did not have pole vaulting available for women.
"You had to seek a coach, and it's like you want to break a barrier," Cruz said. "It wasn't available for women; but one girl went against the federation, and it opened a door."
After moving from Puerto Rico, Cruz attendedLos AltosHigh Schoolfor her junior year, where she began pole vaulting for the track and field team.
Her personal record for high school pole vaulting was 11 feet and 6 inches.
Now at SJCC, Cruz said she has been having a successful season improving her personal record by more than a foot and is working on her technique with the help of her coach.
"He's really on you about your performance," Cruz said about Vance. "But he's looking out for your best interest."
Cruz said Vance and Flynn are supportive and involved in working together on what the pole vaulters need, such as constructive criticism on their performance and equipment for her and fellow pole vaulters Aaron Medinck and Emily Soley.
"This is a group of good athletes that are trying to grow and get better," Vance said. "I'm always pleased with their performance because it puts a smile on their face."
Cruz's three goals for the season are to reach her personal record of 13 feet and 1 1/2 inches and break the junior division (a category defined by age) pole vault record in Puerto Rico, which is 13 feet and 3-1/2 inches.
She also wants to make the junior world champions meet inBarcelonaand the junior Central American and Caribbean  Athletic Confederation inEl Salvadorover the summer.
After SJCC, Cruz, who majors in human physiology with a minor in psychology, plans on attending theUniversityofWashingtoninSeattle.
"My parents and Brandon (Vance) have been there the entire time making sacrifices," Cruz said. "I would not be here without their help and the team's effort. Like when we held the pancake fundraiser."
She said her athletic accomplishment she is most proud of is overcoming obstacles and finding ways to do what she likes.
"Everything is getting better in practices," Vance said. "She is starting to scratch on her abilities on what she can do."