'She works too hard'
Brandon Berthelsen
May 10, 2011
Filed under News
Hang on for a minute...we're trying to find some more stories you might like.
[media-credit name="Lopez" align="alignnone" width="135″]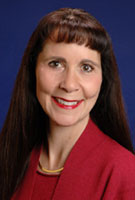 [/media-credit]"I was an illegal human being," said Ann Lopez, 65, professor of environmental science at San Jose City College. The anti-miscegenation laws, banning interracial marriage and cohabitation, were not repealed until 1948 in California. Her career has been a difficult passage, with most odds stacked against her as a person of Caucasian and Mexican descent. "I was born in San Bernadino, California," Lopez said, "At a time when Mexicans and whites were having their senior proms in separate buildings."
"I come from a family of teachers," Lopez said, "My grandmother was a teacher … my father was a teacher, my aunt is a teacher … my daughter's a teacher." Lopez attended University of California Riverside and graduated with her master's degree in environmental biology in 1969. In the same year, she was hired by SJCC.
In 1994, she attended University of California Santa Cruz, "and I told them I would do it if I could continue to work at City College, because I was a single mother, and that my research could include something to do with farm-workers."
After finishing her doctorate in environmental studies, Lopez published a book of her work, "The Farmworkers' Journey," detailing the adverse affects of globalized trade on migrant and native Mexican farmworkers.
Lopez has been a staple at SJCC and "the force behind developing the environmental science program," said Leandra Martin, dean of the Department of Science and Math. "Our current environmental science program is modeled after a lot of the same (field) trips she pioneered."
Lopez is officially retired, but even retirement could not put
a stop to her teaching. Lopez maintains one Saturday section of environmental science.
"People were not happy about having Lopez move into those fields," Lopez said. "It wasn't easy dealing with the people that I had to deal with in my department (in the past). They were condescending, patronizing, at times cruel. What kept me going were the students."
Lopez takes a very hands-on approach to science, with multiple field trips every semester. Past field trips include the Green Festival in San Francisco, Alum Rock Regional Park and the Center for Agroecology & Sustainable Food Systems' farm at UC Santa Cruz.
"I've learned about the impact; the tremendous deficit (and) imbalance between human consumption of natural resources and natural replacement," said Roland Pinto, 37, business major, and former student of Lopez's environmental science class."She's really opened up my eyes."
"When she was here there were very few women in science," Martin said. "She works too hard."

Print