Methyl iodide linked to california's strawberries
Melissa Martinez
April 5, 2011
[media-credit id=21 align="alignnone" width="400″]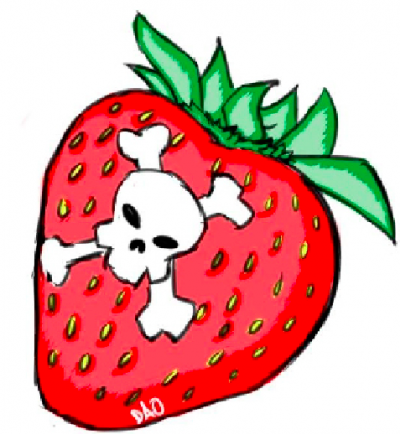 [/media-credit]Methyl iodide, a hazardous air pollutant and cancer-causing chemical, received the seal of approval from the Department of Pesticide Regulation, despite overwhelming opposition from the scientific community.
More than 50 scientists, including five Nobel laureates, stated in a joint letter, "As chemists and physicians familiar with the effects of this chemical … we urge you to do whatever is possible to prevent this chemical from ever becoming a registered pesticide," advising the U.S. Environmental Protection Agency against the release of methyl iodide into the environment.    
Methyl iodide is recognized by the EPA as a carcinogen, known to induce cancer in the lab; this is especially alarming since it may infect the ground water supply. 
"When the fumigant is used close to the ground, it can cling to particles of soil," said Dr. Ann Lopez, professor of environmental science at San Jose City College. "Overhead watering of crops will then cause it to 'sink' into the soil, and ultimately into the ground water supply."
Following the department's approval, the Pesticide Action Network of North America posted on their website a fact-sheet on the chemical. The website also indicated their organization had filed suit against the decision.
The lawsuit argues that using methyl iodide violates several California health and acts, including, "Environmental Quality Act, Birth Defects Prevention Act, and the Pesticide Contamination Prevention Act that protects groundwater against pesticide pollution," in addition, to violating worker safety regulations. 
All pesticide fumigants are applied at very high application rates, that is about 175 pounds per acre, Dr. Susan Kegley of Pesticide Action Network indicated during her testimony before the California State Assembly Committee, she estimates 6 to 10 million pounds a year will be used once fully integrated into the system.  "Once the chemical is integrated into the environment you can't mitigate the risks you can't pull it back."  
How likely will use of the pesticide threaten the ground water supply?  Kegley explains, "Methyl iodide is injected into to the soil prior to planting a crop and plastic tarps are pulled over the soil immediately afterward; any water that is applied to the soil after the tarps are removed–by rain or irrigation–will leach the methanol and iodide ions, down through the soil into the groundwater table." 
The documentary, The Future of Food, explains that new technology created during this last century began the "Green Revolution." Genetic regularity increased plants vulnerability to insects and disease. This has growers trapped on a "pesticide treadmill," the more pesticide they spray the more they find they have to spray.  Over the years, increase use of pesticides led to increased costs, polluted water and created health risks.
Despite adverse effects, fumigants are valuable to growers who believe it would not be possible to grow their crops without them, as competition does not allow them an opportunity to experiment with alternatives.
Jim Cochran, owner of Swanson Berry and certified organic grower, sympathized with their position, "You got to make money at this, you got to make it work economically," during his testimony before the California State Assembly Committee.  Cochran stands in favor of looking for alternatives to the pesticides; calling for the State Assembly to consider the environmental advantages. "Maybe we should be thinking about moving in a different direction, and maybe it will be to our long-term economic benefit."