Made from scratch: the cooking corner
The easy French recipe of quiche Lorraine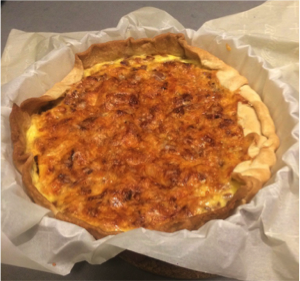 Anne Caillat, Times Staff
April 19, 2017
The quiche Lorraine comes from the east part of France in the region Lorraine, close to Germany. The word "quiche" comes from the German word "kuchen," meaning "cake."
The traditional recipe of quiche Lorraine has few ingredients: bread dough, eggs, cream and smoked bacon.
In the 16th century, the quiches were cooked every two weeks in the unique village's bread oven. That particular day, the farmers were coming from all over the countryside to cook their bread for the next two weeks.
At the end, when the oven was still warm, they were cooking the quiches with the rest of the bread dough, and then they were eating the quiches all together.
Nowadays, the quiche is still an easy dish that French people make for their close friends or family, when they don't want to spend too much time cooking or if the fridge is half empty: they know that a quiche is always welcomed.
But since the 16th century, the recipe has evolved and diversified: today, the quiche is made with pie crust dough and it is not unusual to see quiches with broccolis, even tuna or mushrooms. Basically, you can make a delicious quiche with almost everything you find in your fridge.
You can serve your quiche as a starter or as an entree, cold for a snack or warm for a full dish. With a green salad side, it is a healthy and complete meal.
Below, I suggest a quiche Lorraine with a little variation: I added onions and shredded cheese, that's my favorite recipe.
TOOLS
A bowl
A pan
A pie pan
Parchment paper
A wooden spoon
A fork
A good knife to chop the onion
INGREDIENTS
The dough:
– A pre-made pie crust dough (good enough)
– Or a homemade one: mix all together 1 cup all-purpose flour, 1/2 teaspoon salt, 1⁄3 cup butter, 3 tablespoons cold water.
The filling:
3 eggs
1/2 cup sour cream
1/2 onion
1/2 cup diced bacon or lardons
1/2 cup swiss or cheddar shredded cheese
a bit of salt and pepper
RECIPE
Heat the oven at 370 F.
Put the parchment paper on the pie pan and roll out the pie dough on it.
On the pan, cook the bacon and set aside (don't add oil, the fat from the bacon is enough).
Chop the onion and cook it on the same pan used for the bacon.
In the bowl, mix the eggs, cream, salt and pepper with the fork.
Pour the bacon, the fried onions, and then the egg mixture on the pie dough.
Sprinkle the cheese on the quiche and bake for about 30 minutes. When the color becomes golden, it is ready: enjoy!