2016 NFL Mock Draft: Why Jalen Ramsey Should Go Number 1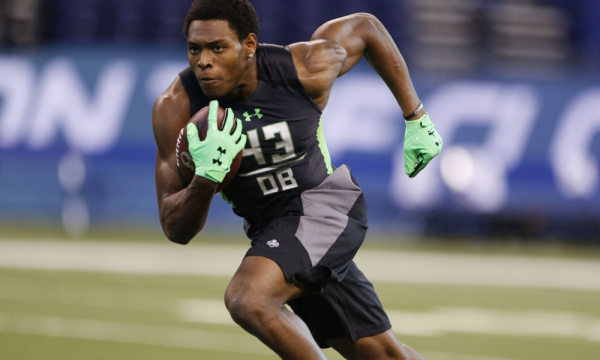 David Xaviel
April 7, 2016
Filed under Lifestyle
Hang on for a minute...we're trying to find some more stories you might like.
By David Xaviel
College Times Staff
In reading various mock drafts from around the web, including sites like CBSSportsline.com, a few patterns seem highly questionable.  For example, Laremy Tunsil of Ole Miss is not the best pick for the Tennessee Titans at number 1.  The Titans need more than an average starter with the number 1 pick, especially considering Tunsil's history of suspensions and injuries.
I write Mock Drafts by asking, "What would be in the best interests of 'this' club," rather than consider the unwritten rules of what happens in the draft (ex, taking a defensive back with the first pick in the draft).
If you look at the history of the NFL draft of the last 25 years, a highly rated tackle is often a bust, or nothing more than a quality starter, rather than an All-Pro.  There are too many examples to name, but a few that come to mind are Jake Long, Alex Barron, Chris Williams, Kwame Harris, Eric Fisher, Jason Smith, Robert Gallery, Mike Williams, and many others.  The last top-rated tackle—that comes to mind—that became an All-Pro was Orlando Pace and that was in 1997.
Tennessee Titans: Jalen Ramsey, s-cb, Florida State
The Titans are devoid of difference makers on defense.  Taking a defensive back with the first pick of the NFL draft does not happen often, but that does not mean it should not.  In fact, the only time a defensive back was taken with the first pick in the NFL draft was Gary Glick in 1956 by the Pittsburgh Steelers.  Trivia like that is bound to make some NFL executives uneasy about using the first pick on a defensive back.  Yet, in a league that is increasingly tilting towards the passing game, Jalen Ramsey would be an asset in defending the pass and looks like the safest pick in the top five of a draft.
Cleveland Browns: Laremy Tunsil, ot, Ole Miss
The Browns lost center Alex Mack and right tackle Mitchell Schwartz in free agency.  Laremy Tunsil could be a dominant presence on the right side in protecting quarterback Robert Griffin III and even paving the running way for RG3.
San Diego Chargers: DeForest Buckner, dl, Oregon
Joey Bosa of Ohio State has a higher rating on many boards, but he is undersized to play defensive end in the 34 base that the Chargers use, while Bosa probably cannot make the transition to linebacker (ex, Bjorn Werner from the Colts).  DeForest Buckner would make the Ravens better in the trenches and free-up edge rushers, like Melvin Ingram.
Dallas Cowboys: Ezekiel Elliott, rb, Ohio State
Running-backs are no longer valued in the NFL like they used to be, but Ezekiel Elliott's pass-blocking skills would be ideally suited to bolster the protection of quarterback Tony Romo in the Cowboys' offense, and Elliott would of course, give Romo a running-back to set up play-action passes and fight for tough yards.
Jacksonville Jaguars: Myles Jack, olb, UCLA
The Jaguars expect Dante Fowler to return from injury in 2016, which would address the need for a defensive end.  The bigger need for Jacksonville would be at linebacker.  Myles Jack's size and pass-coverage would be ideally suited for head-coach Gus Bradley's Seattle-style defense.
Baltimore Ravens: A'Shawn Robinson, dt, Alabama
A'Shawn Robinson is a versatile lineman who played in a 34 scheme at Alabama, which is why Robinson makes the most sense for the Ravens–a team in need of help on the defensive line.
San Francisco 49ers: Jared Goff, qb, California
Anyone who doubts Jared Goff because of the college offense he played in, need look no further than quarterback's Aaron Rodgers and more recently, Derek Carr.  After all, head-coach Chip Kelly runs a college-style offense.  At the risk of writing something that could go to Goff's head, the questions about Jared Goff's frame are similar to the questions asked about Joe Montana.  The 49ers passed on Aaron Rodgers in 2005 for quarterback Alex Smith, whom they traded to Kansas City because of the emergence of Colin Kaepernick, who is likely done in San Francisco.  Passing on Goff would be a mistake.
Philadelphia Eagles: Ronnie Stanley, ot, Notre Dame
The Eagles re-signed quarterback Sam Bradford, and while some think that the Eagles are likely to select a quarterback in the first round—I don't think they would have needed to trade up to take a quarterback.  With left-tackle Jason Peters at 34, it seems wiser for the Eagles to invest in a left-tackle.
Tampa Bay Buccaneers: Joey Bosa, de, Ohio State
On the wrong team, Joey Bosa will struggle because he's likely limited by size and skills to being a 43 defensive end that won't lead the league in sacks, but he can still be a starter for a long time, if not a ProBowl player.  Tampa Bay's defense would be a good fit for Bosa.
10. New York Giants: Laquon Treadwell, wr, Ole Miss
With Odell Beckham under suspension and Victor Cruz returning from injury, the Giants need help at wide receiver and so Laquon Treadwell makes the most sense for the Giants, because  the Giants need weapons for quarterback Eli Manning more than they need help on defense.
11. Chicago Bears: Vernon Hargreaves III, cb, Florida
This pick is the best available while head-coach John Fox specializes in defensive backs
12. New Orleans Saints: Shaq Lawson, de, Clemson
Currently, the Saints have Bobby Richardson listed as the defensive end on the left side, but at 286 lbs., Richardson could move inside to tackle.  Shaq Lawson would be a much needed bookend rusher for the Saints defensive line with Cameron Jordan on the other side.
13. Miami Dolphins: Darron Lee, olb, Ohio State
The Dolphins need speed on the edges and Darron Lee would bring just that.
14. Oakland Raiders: Sheldon Rankins, dt, Louisville
The Raiders add a big body up front on the defensive line in Sheldon Rankins.
15. Los Angeles Rams: Mackensie Alexander, cb, Clemson
The Rams replace Janoris Jenkins with a similar player in Mackensie Alexander.
16. Detroit Lions: Jarran Reed, dt, Alabama
In Jarran Reed, the Lions get an occupier for the middle of the defensive line to free up the linebackers and generate a better pass-rush.1
17. Atlanta Falcons: Taylor Decker, ot, Ohio State
Sometimes, a team should improve on strengths rather than address weaknesses.  The Falcons take the best available in Taylor Decker to fortify the offensive line at right guard.
18. Indianapolis Colts: Reggie Ragland, ilb, Alabama
The Colts add a thumper to the middle of the line-backing corps in Reggie Ragland.
19. Buffalo Bills: Jack Conklin, ot, Michigan State
Head-coach Rex Ryan likes to run the ball, which is important in the snowy conditions of Buffalo.  Taking Jack Conklin to start on the right side would make it easier for LeSean McCoy to run off-tackle.
20. New York Jets: Leonard Floyd, olb, Georgia
The Jets need work on the edges of the defense and Leonard Floyd is a good fit as an outsider linebacker in the 34 scheme that the Jets use.
21. Washington Redskins: Jonathan Bullard, dl, Florida
Some might say Robert Nkemdiche should go in the first round, but my guess is that his off-field problems will be too much of a red flag for any team to take him in the first round.  The versatile Jonathan Bullard would be a good fit as a defensive lineman for the 'Skins
22. Houston Texans: Ryan Kelly, c, Alabama
The Texans signed Tony Bergstrom from the Raiders and currently is penciled in as the starter.  Not good.  Houston fills a need with the best center in the draft.
23. Minnesota Vikings: Corey Coleman, wr, Baylor
The Vikings add a weapon for Teddy Bridgewater in Corey Coleman
24. Cincinnati Bengals: Eli Apple, cb, Ohio State
Does Eli Apple fall this fall?  I think so.  The Bengals need flexibility in the secondary and Apple could move between cornerback and safety.
25. Pittsburgh Steelers: Noah Spence, olb, Eastern Kentucky
Noah Spence has some red flags around his character, but he will not slip past the first round.  The Steelers snap up the edge rusher.
26. Seattle Seahawks: Jason Spriggs, ot, Indiana
The Seahawks tackle the athletic Jason Spriggs for the zone-blocking scheme they use to replace Russell Okung
27. Green Bay Packers: Andrew Billings, dt, Baylor
The Packers take Andrew Billings to be an occupier on the defensive line the Packers' 34 defense.
28. Kansas City Chiefs: William Jackson III, cb, Houston
The Chiefs replace Sean Smith with William Jackson III.  Not that complicated.
29. Arizona Cardinals: Paxton Lynch, qb, Memphis
The Cardinals would be remiss to pass on Paxton Lynch, even if starting quarterback Carson Palmer has two or three more years left.  Palmer has been sidelined with injuries, and so, Lynch does not need to be the heir apparent to Palmer.  Yet, if the Cardinals want to make a Super Bowl run, the club cannot take the chance of having no Plan B.
30. Carolina Panthers: Derrick Henry, rb, Alabama
The Panthers do not have many significant needs, but the Panthers like to run the ball.  With current starter Jonathan Stewart at 29, the Panthers would be wise to be forward looking by taking running back Derrick Henry
31. Denver Broncos: Carson Wentz, qb, North Dakota State University
The rich get richer and luck out that Carson Wentz falls this far to replace Peyton Manning.
Featured Photo source: http://thebiglead.com/2016/02/29/jalen-ramsey-nfl-draft-best-player-staked-claim/

Print