Jaguars overcome offensive struggles
Noe Magana
December 8, 2015
Filed under Sports
Hang on for a minute...we're trying to find some more stories you might like.
Sankey leads SJCC past MPC
Regina Sankey's 24 points helped the San Jose City College women's basketball team win its second game of the year defeating Monterey Peninsula College 55-52.
The Jaguars were down 48-40 midway the fourth quarter after Lobos' forward Cassandra Barraza stole the ball and scored two points in a quick break away as she was fouled by Jaguars' forward Jhaina Stephens. Barraza completed the three-point play after scoring the free throw.
When it seemed the momentum was shifting towards MPC, Sankey stole it right back.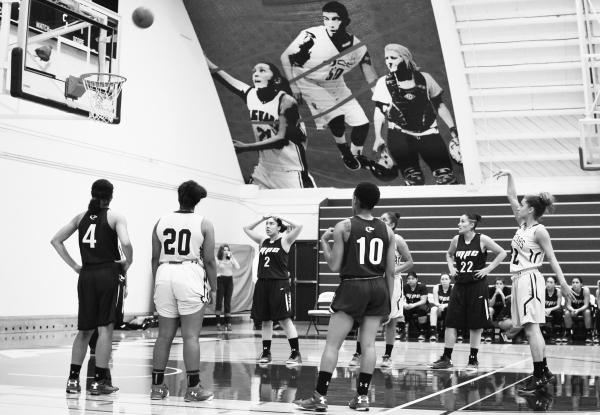 Sankey kept the Jaguars in the game with a steal that led to a layup on the break-away to get within four points.
The jaguars continued to push the score board when point guard Teresa Guerra hit two 3-pointers and Sankey scored two free throws to take the lead 53-48 with three minutes left to complete a 13-0 run.
"That's really what did it," Sankey said. "She (Guerra) got us boosted."
Guerra tried to put the game away for SJCC with 32 seconds left on the game. She took an open three-shot, but unfortunately for her and the jaguars it did not go in.
The scene was set for a dramatic finish.
The Lobos had the opportunity to tie the game with the last possession of the game with 17 seconds left on the clock. MPC took three open shots from beyond the three-point line and rebounded all to take one final shot with less than two seconds left, but the ball hit the rim and bounced to a SJCC player to end the game.
"We played as a team that's the only reason why we did good and we all scored a lot of points and we came back at the end to win it," Sankey said.
It was a tail of two halves for SJCC.
In the first half SJCC scored 26 points with the contribution of seven players with at least two points. The second half only three players had more than two points.
Sankey led the Jaguars in the second half scoring the only points for SJCC in the third period going 3/3 from the field and 4/4 from the free-throw line while the rest of the team was 0/2 from beyond the three-point line, 0/3 for 2-point shots and 0/2 from the free-throw line.
SJCC is now 2-3 Pending results from Comet Tournament that was scheduled for Dec. 2-3.
---
Starters:
Regina Sankey
24 pts, 7/11 FGs, 10/12 FTs, 0/1 3s
Ashley Snow
8 pts, 3/4 FGs, 2/4 FTs, 0/3 3s
Clara Ratu
4 pts, 2/5 FGs, 0/1 3s
Joyanna Pabelonio
3 pts, 0/1 FGs, 3/4 FTs
Vivian Wong
0 pts, 0/2 3s
Bench:
Teresa Guerra
9 pts, 0/1 FGs, 3/7 3s
Christine Golfo
4 pts, 1/1 FG, 2/2 FTs, 0/1 3s
Jhaina Stephens
2 pts, 1/3 FGs
Aaliyah Thomas
1 pt, 1/2 FTs

Print