Options widen at SJCC
Noe Magana
October 13, 2015
Filed under News
Hang on for a minute...we're trying to find some more stories you might like.
New degrees allow students to be more efficient
San Jose City College now offers three new Associates Degrees for Transfer; English, Studio Art and Early Childhood Education.
Degrees for transfer are a result of collaboration between community colleges and California State Universities that enables the students to efficiently transition from a two-year school to a four-year school with the goal of obtaining a bachelor's degree.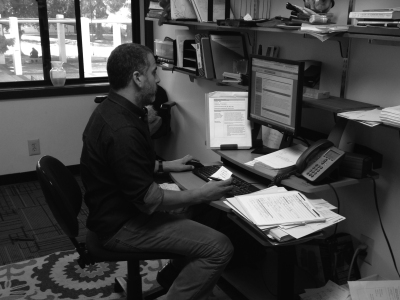 "The cool thing about these transfer degrees is that it gives students a very clear track to transfer," said Scott Inguito, English instructor, 48.
Duncan W. Graham, vice president of Academic Affairs, said that students were taking from 75 to 80 units to apply to transfer to three schools.
For example, one school might require class A, B and D while the other school needed the student to take class B, C and E. If the student still hadn't made his or her mind on what campus to transfer or was planning to apply to both, he or she was obligated to take all the classes to meet the requirements for both schools.
"He (Sen. Alex Padilla) recognized that there was a real challenge for our students in getting through with a degree with 60 units and then trying to transfer," Graham said.
Sen. Padilla authored SB 1440, the Student Transfer Achievement Reform Act. It required community colleges and four-year universities to create a transfer process that was quicker and clearer for students.
"(Students) will be guaranteed acceptance with that degree at a CSU and not be required to take more than the 60 units to get the bachelor's degree," Graham said.
Within the 60 units required to obtain an AD-T, students need to complete 18 core units within their degree and pass classes with a C or better.
"If you think about transferring quickly you're saving time (and) you're saving a lot of money," Inguito said. "(Degrees) are designed to get people in and through quickly."
Information about the degrees and the requirements is available online for students to analyze. However, it is recommended to students to utilize all of the available resources at hand. Making an appointment with a counselor to make a career plan is one of those resources.
"I thought I knew it all so I (thought I) was taking the right classes, but then when I met with my counselor (I learned) I was taking classes I wasn't supposed to," Ingrid Elias, 20, Health Science, said.
The educational plans consist of informing the students about what classes are required for a degree along with an expected time frame of completion and other program applications that relate to a specific degree.
"We have been developing these transfer degrees over the last couple of years. We started out with two and now we offer 11," Graham said.
Along with the three new degrees SJCC offers AD-Ts in Communication Studies, Economics, Elementary Teacher Education, Kinesiology, Psychology, Administration of Justice, Business Administration and Mathematics.
SJCC seeks to offer more degrees in the near future. There are four new degrees in process this semester; History, Philosophy, Journalism and Art History. Graham said that the time frame to get accredited for a new degree ranges from a semester to a full year.
"It gives students a great opportunity, if they're serious about their studies and getting through very efficiently," Graham said. "And it gives them a clear path to go in. That's why we are interested in creating more of these (AD-T degrees)."
Elias said she believes it is important that SJCC is offering more degrees because it gives students more options.
In her case, she transferred from Evergreen College because the classrooms were full and sometimes it was difficult to get a class.
She said that as long as more degrees are being offered, students will not be forced to travel to Mission College or other nearby schools to pursue a higher education.

Print