Comic Con in the Bay
Wizard World visits San Jose for the first time
BY ARACELI LOPEZ
TIMES STAFF
Abba's "Mama Mia" felt out of place as the background soundtrack for comic book booths selling fan art, collectible toys and faux fantastical weapons, however it didn't seem to inconvenience those receiving ink at the tattoo booths.
The Wizard World Comic Convention, a comic convention where fans of science fiction and fantasy pop culture get together, took residence in downtown San Jose for the first time at the San Jose Convention Center from Sept. 4-6.
The convention just came on the heels of traveling from Chicago to the Bay Area.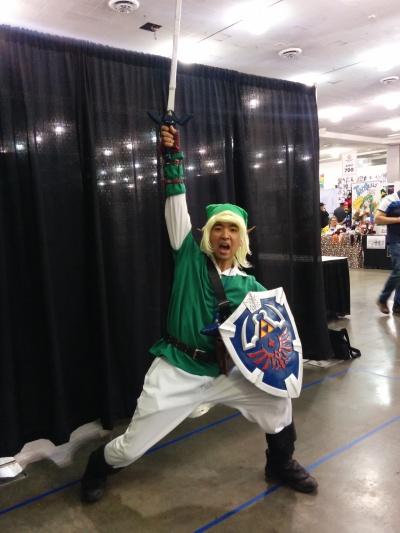 Chicago's crowd reached roughly 30,000 visitors. Thousands of fans participated in the weekend-long convention in downtown San Jose.
Wizard World travels from major city to major city, highlighting not only comic books, but graphic artists, celebrities and even workshops that deal with pop culture topics.
Ryan Dawson, an artist whose medium of acrylic paint to canvas frequents the comic convention circuit selling prints of his work.
"I have never attended any Con as a fan, always an artist," Dawson said. "(I go to) 40 to 42 shows a year, from New York to L.A. to Miami in 30 days."
Tyler Higashi, also known as JazzyTyfighter when in costume play, cosplay, was dressed as Link from the ever popular video game series, "The Legend of Zelda."
Higashi, a senior at San Jose State University studies graphic design and has aspirations to becoming a freelance designer for the movies.
"My cosplay has gotten better over time," Higashi said. "One day I'll be able to afford real boots and not these," he said while pointing to the costume boots that go over his sneakers and tights. Higashi has attended other local Cons such as the Bay Area Brony Spectacular Con, also known as Babs Con, Fanime and Animation on Display.
Wizard World employee Mitch Stahl said he has been working part time for the WWCC for the past year and a half and absolutely loves it.
"This (San Jose Con) is my fourth Con. I love the fans, meeting them," Stahl said smiling.
He travels with the Convention to and from major cities, works with line security, escorts celebrities, makes sure that things do not get out of control, and that everyone leaves with a smile.
Celebrities at this year's Wizard World included Lou Ferrigno, made famous for portraying the Hulk in the original 1970s TV series "The Incredible Hulk", 1980s horror icon, Bruce Campbell and select cast members from "The Walking Dead."
"Do it. Go to a Con. No matter where it is, and go do it," Dawson said. "You'll never be disappointed."
The next Wizard World Comic Con travels to Nashville, Tennessee from Sept.25-27; however the next comic convention to take place in San Jose is the Heroes & Villains Fan Fest at the San Jose Convention Center from Nov.21-22.
For more information about Wizard World Comic Cons, visit: www.wizardworld.com.
For more information about upcoming conventions in San Jose, visit: www.sanjose.org.