City College Times wins awards
Brennon Dixson
April 28, 2015
SJCC Journalism students shine at state convention
Competition, friendly people and chaos often lead to fun moments.
Members of the City College Times and other newspapers across California were exposed to all three of these elements when they attended an annual state convention hosted by the Journalism Association of Community Colleges in Sacramento on April 9-12.
Students Brennnon Dixson, Cristina Quattrin, Andy Nguyen and Koryen Harper were the representatives for the City College Times.
[media-credit id=1 align="alignright" width="400″]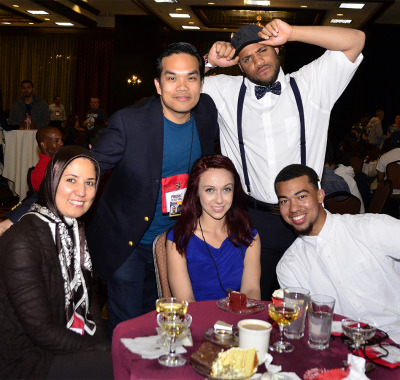 [/media-credit]Andy Nguyen, staff photographer of the City College Times, won a scholarship worth $500 from JACC to help pay for his education.
"When I heard my name I felt very excited," Nguyen said, "but I was also very nervous."
He said he plans to use the money for a future exhibition he plans to hold in September to help children in Vietnam.
Ann Elizaga, a staff writer for the Times, won an award for a mail-in feature photo contest, and the entire Times team won an award for student-designed advertisement.
"I feel all my hard work wasn't all for nothing," Elizaga said.
The conference had 476 students and faculty from 38 community colleges congregated under one roof for the entire weekend. Students mingled and networked with their future peers in the industry.
It was really nice to be around so many people who were ambitious and shared the same interests, Harper said. Students at the convention were very social and many new friends and connections were made.
"It allowed me to see the bodies of work of others," Harper said, "and gave me ideas to take home to better our paper."
Along with networking opportunities, the conference also featured workshops from professionals in the journalism industry that lectured on a variety of topics.
Quattrin said she attended workshops that discussed the importance of social media in news today.
"I learned that it's important to keep the social media accounts moving and updating," Quattrin said. "It's also important to keep reminding readers of events that are a few days away."
Students at the Times have already begun applying the social media practices that they've learned. Quattrin said she hopes students will be more aware and better engaged in the community as a result of the new social media uptick.
Harper said he attended a few contests that gave him valuable experience and forced him out of his comfort zone. He said he's never been in a situation like the contest where he had to make something out of nothing simply by talking to people.
"I was very happy and proud. If I could do that in writing then I could do it in anything," Harper said. "I could go into the unknown and come out swinging."
The convention was a great learning experience for everybody who went and Quattrin said she hopes to be able to attend the conference next year if the opportunity presents itself.