Coach of the Month: Percy Carr
Cristina Quattrin
April 7, 2015
Filed under Sports
Hang on for a minute...we're trying to find some more stories you might like.
Percy Carr celebrates his 40th year as head basketball coach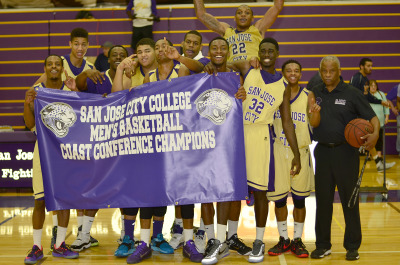 With a bachelor and master degrees from Fresno State in Physical Education, Coach Carr has taught as well as coached at Tulare High School and Edison High School. When coaching at Edison High school, Coach Carr brought the school to three championships and an 88-22 winning record.
After receiving the title of Fresno Coach of the Year, Coach Carr coached at Stanford University. Success followed his move from Edison High School to Stanford as his team defeated University of California Los Angeles and University of Southern California during the same weekend. The wins happened for the first time in ten years during a Pac 10 Conference.
Coach Carr soon after accepted his current position as the basketball coach at SJCC.
During this past 2015 season, Coach Carr's team became champions of the Coast Conference. With over 800 wins, Coach Carr is notable in California for holding the highest record of wins in California community college history. He has brought in 12 Conference Championships as well.
Not only are his wins astounding, so are the achievements of being acknowledged by the California Community College Basketball Coaches Association's Hall of Fame in March 1998. This title led him to scoring a rank at No. 6 junior college coach in the United States by Basketball Times in August 1998.
Though Coach Carr is recognized as a coach, he is a wonderful educator who has gone above and beyond. He is the founder of Creative Athlete Retention Response (CARR) program offered at SJCC. CARR offers students involved in athletics with academic advising and support.
Coach Carr is deserving of each titled he has received. It is with great respect to offer him Coach of the Month.
Fun Facts about Coach Carr:
Favorite food: Chicken
Hobby: Golf
College attended: Fresno State

Print