SJCC celebrates Lunar New Year
Ann Elizaga
March 17, 2015
Students and faculty were brought together by the Associated Students government
[media-credit id=1 align="alignright" width="300″]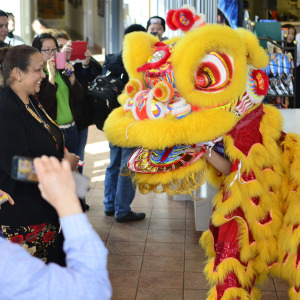 [/media-credit]A two-day celebration of Lunar New Year honored the Year of the Goat at the SJCC Student Center on Feb.18-19.
"Lunar New Year begins roughly 1-2 months after the official new year, which is in the end of January to February," said Duy B. Va, a SJCC student majoring in economics.
Students appreciated the fact that the Tet Vietnamese celebration was shared among students at SJCC.
"Lunar New Year is about Asian culture and celebrating their new year by the Lunar calendar," said Justin Cu, the SJCC International President.
This Asian cultural celebration is mostly celebrated among Vietnamese and it is a family oriented celebration.
"Lunar New Year is pretty much like Christmas/New Year to Vietnamese, "Nina Pham, the senator of the United World Student Association wrote in an email. "It is time for family and all the people that you love. We also have certain kinds of traditional Vietnamese foods, which are especially served during this holiday. Also, we will receive lucky money in a red envelop from the elders. That's how the elders wish you luck and happiness."
Some students enjoyed the Vietnamese sticky rice cake dish at the Lunar New Year celebration.
"It is different style than Vietnamese because there is more meat in the cake than the Chinese style," said Iris Zhung, an SJCC student.
CamBinh Nguyen, a Vovinam Martial Arts master did an Asian cultural dance for SJCC students.
"The Lion and Dragon Dance means good luck and happiness," said CamBinh Nguyen, a master of the Vovinam Martial Arts.
In the Vietnamese culture the lion resembles the Chinese Southern Lion but there are also distinct local forms that differ significantly in appearance and performance.
"Lan (Lion) appears in every Tet Festival, Moon Festival, or when the people have a grand opening of a new store," CamBinh Nguyen wrote in an email. "Our custom believes that when anybody spots a Lan, they will have luck, a happy and long life."
The celebration was enjoyable and it made students aware of this Vietnamese cultural celebration.
"It was really fun," Pham said. "It brought students together; to getting to know Lunar New Year celebration."
The master of the Vovinam Martial Arts showed her appreciation toward being at SJCC with the students and staff for the celebration.
"The show at the San Jose City College was great," CamBinh Nguyen wrote. "The people at the cafeteria and the Vice President of Student Affairs, Elaine Burns were friendly."