Nickatina strikes the Agenda
Koryen Harper
March 17, 2015
Underground Legend performs in San Jose

[media-credit id=1 align="alignright" width="220″]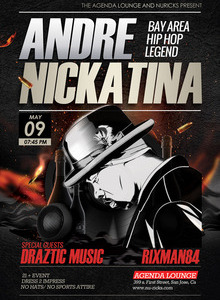 [/media-credit]On Saturday Feb. 27, people lined the corner of 1st and West San Salvador Street at Agenda lounge to see Andre, "Ayo for yayo", Nickatina.

Nickatina is seen as one of the last Bay Area legends who was not only present during the golden-era of Hip-Hop, but one of the few artists who helped hip-hop continual to growth as a culture.

Nickatina has had his finger on the pulse of what is raw, uncut and capable of capturing the mind and ears of listeners alike.

The opening acts for Nickatina was a variety of local amateur MC's showcasing their talent. The nights tone was set by the opening act Jr. Naddox with Elevated Creativity Entertainment fellow artists E-Man and KDM. Their performance was mediocre, but showed so much promise when their hit "Trippy" blasted through the speakers.

Jr. Nadox was followed by a lackluster bunch of performers, but the stand out performances that left the crowd rocking and rushing the stage was Odysseus and Rubblez. Odysseus is a new artist that was debuting bringing a lyrical story that was missing from other artists. Odysseus raps with a message and energy that crowds can connect with. Rubblez is an artist who has had the privilege of working with Bay Area artists of HBK, Heart Break Gang, Jay Ant and P-Lo. Rubblez for the night led the underground scene with his hits such as "My taper" and "Taken off."

A big vocal issue of the night was music volume and bass overpowering artists who all performed with a vocal track. It would have been great to actually hear lyrics instead of beats. Artistry is seen by artists who can do more than have a hard hitting beat. True artistry is having a stage presence; and having a lyrical way with words. These amateur artists need to learn that hip-hop is more than offensive language and self-hype.

Between each act was a slight delay that drew crowds toward the bar to partake in more drinking with their $3 and $5 dollar drink specials. There were a series of altercations from the rowdy and rambunctious crowd that Agenda brings in; all while the wait for Nickatina's arrival. After so many lacks luster performances and waiting so long for Nickatina to arrive people, started to become antsy and leave while others stayed.

Nickatina did not arrive on stage till 1:15am to perform and when he did he played some of his hits such as "Boss tycoon" and "Ayo." Although he only performed for 20 minutes, he left those who stayed satisfied that they got to see him perform live. As for other spectators, Nickatina's performance was uneventful. Many spectators felt like the $25 spent on an entrance ticket was money not well spent. Nickatina is nonetheless a great artist, but as far as performing goes, he does not leave a lasting impression.