Jags' great run ends
Brennon Dixson
March 17, 2015
Filed under Sports
Hang on for a minute...we're trying to find some more stories you might like.
Loss ends sweet hoops season

     The San Jose City College men's basketball team ended their season with a 67-58 loss to the Cañada Colts in the Sweet 16 of the state playoffs.

It was an exciting game as many people filled the SJCC Gymnasium to show support for both teams. Neither team's players sought to disappoint the crowd with SJCC'S Chris Sterling going for 25 points with a few crucial steals that led to numerous fast-break lay ups and easy looks for his team. Stevinaire Young added 13 points and 6 assists to the effort.

[media-credit id=1 align="alignright" width="400″]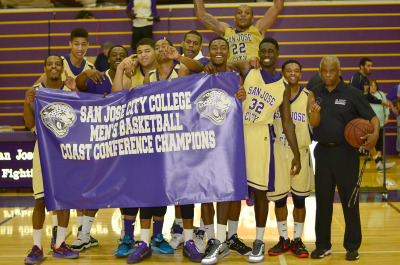 [/media-credit]Not to be upended, Cañada's Crisshawn Clark and his team were off to a hot start as he showed off his range, hitting four 3-pointers in the first half, and finished with 22 points in the game. Clark's teammate Manny Martin chipped in 17 points and 14 rebounds to finish with a double-double in the win.
Tenacious defense and hustle set the tone for the game. Bodies flew as they dove for loose balls and fought for offensive rebounds throughout the game.
The hustle of the Jags was evident in their full-court press and 2-3 zone as they were uber aggressive going for steals and blocks. This kept them in the game as they fell behind early, thanks to a cold start on the offensive end combined with Cañada's ability to constantly grab offensive rebounds.
However, the D of the Jags kept the team in it as they clawed their way back from a double-digit deficit to only go down 33-36 at the half.
Highlights were plentiful as blocks at the rim occurred on multiple plays, often times featuring crucial back-to-back blocks from both sides, and players showed off their dazzling post work with dizzying spins and step-back shots from anywhere on the court.
The Jags finish their season 26-4, while the Colts move onto the Elite Eight of the playoffs. Congrats on a wonderful season, Jags!

Print