Students kick off heels in the dance show
Rosa Harrison
May 21, 2013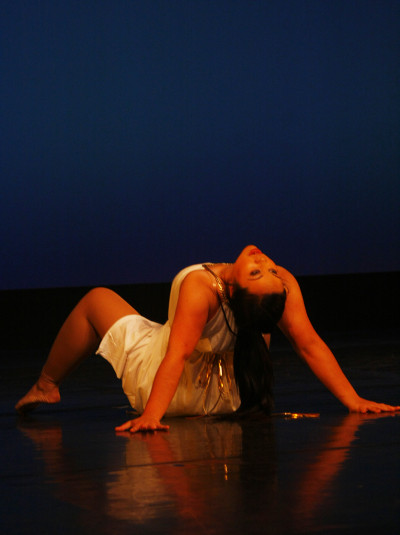 Rosa Harrison

The stage exploded with light, music and dancing as the "We Are Dancers" concert opened with a number, titled "As Fast As You Can."
This production of contemporary works was held in the San Jose College Theater from May 2-4 at 8:00 p.m.
The program included an eclectic blend of styles from modern, folkloric, hip hop, jazz, tap and ballroom. The dancers study various dance techniques which are all offered at SJCC.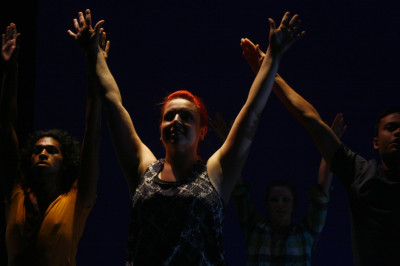 Rosa Harrison
One of the highlights of the night was a piece, "I Dance Because…," which incorporated a video interview of the dancers expressing their personal reasons for dancing. It was choreographed by Dance Director Amber McCall and the students. McCall said she wanted to personalize and give identity and voice to each dancer.
McCall has been directing the dance program for the past 5 years. The program offers a wide array of technique styles of movement. The department has grown since she has been here, and there are approximately 300 students who take dance at SJCC.
There is one performance concert every semester, and classes consist of approximately 25 to 30 students with a core group of about ten who want to transfer and take dance as a career.
Transferring to San Jose State University next year as a dance major, Jessica Bohler, 25, said the show was a bitter sweet one for her since it was her last performance here. Bohler has been dancing for three years. She said the stage was the only place where she could express herself because she is really quiet.
"It is an amazing program Amber has built where there are lots of classes offered, and instructors help guide us in our future," Bohler said.
"I love being able to move," said Alex Andrews, 20, general education major with emphasis on dance. "When I wake up in the morning, my body is tired but my essence is complete when I get to come to dance."
Andrews began taking technique classes in dance two years ago at SJCC. Andrews continued with dance classes largely due to the teachers here.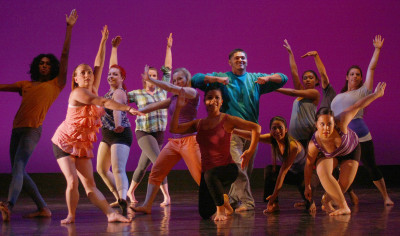 Andrews and Bohler are two of the six dance students who attended the annual American College Dance Festival this semester in Los Angeles.
"It was an amazing experience, and we also got to see other colleges perform," said Bohler.
Taking master classes and workshops and performing in front of a judicator were all part of the experience.
"I have found the program here very different from others. It is technique, passion, understanding the history and learning about the arts as a whole," said Bohler. "We also learn about staging, lighting and choreography. This program embodies all of it."