Campus honors veterans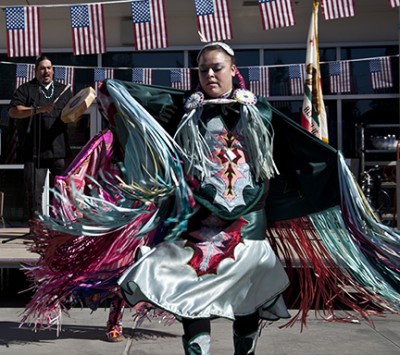 On an unusually hot November day, as students, faculty and as staff made their way to the Student Center, passing more than 20 vendor booths along the way, while traditional Native American music was performed, one man stood alone at the microphone, ringing a bell and singing "The Call," a prayer for veterans and thank you to those who returned from war.
Performed by San Jose City College alumnus Ronald Pinkham of the Idaho Nez Perce tribe Nov. 5 at the Second Annual Veterans Resource Fair, it was first sung by his great, great grandfather at the treaty of 1855.
"The song became a veterans song, as time went on, for those who protect this land that we stand upon," Pinkham said, "so the children's children's children will be able to live in freedom."
The fair connects veteran students with organizations that provide services, such as job training, housing and education opportunities using the GI Bill, as well as counseling.
"It is a one-stop service for all veterans in these two hours once a year," said SJCC counselor Lila Chiem. "It's hard for us to do all the referrals in a half hour counseling session, but this way (at the fair) they have access to all the agencies and their services."
There are about 250 student veterans on campus and about two-thirds receive benefits from the SJCC Veterans Program.
The benefits are listed on the veterans website: http://sjcc.edu/SServices/Services/Veterans/mission.html.
SJCC Counselor Gary Ledesma said it was important to offer services to veterans prior to the official holiday and also to avoid scheduling conflicts with other veterans events.
"The 12th is Veterans Day, but the week before the holiday is one that can be challenging for veterans as they reflect back on their military experience," Ledesma said.
Some of the organizations present included Goodwill, San Jose Department of Veterans Affairs, Nova/Workforce Development, Swords to Plowshares, several colleges and a Mobile Vet Center.
Department of Veterans Affairs counselor Dustin Noll said that there are four Mobile Vet Centers in California.
They provide the same services as every veterans center, such as counseling for military sexual trauma and bereavement, as well as readjustment counseling.
"Readjustment counseling is a blanket term for Post Traumatic Stress Disorder, marriage and family issues and social anxiety," Noll said. "These services are available to the family members as well absolutely free for the rest of their lives."
Counseling information was also available from SJCC's Mental Health Client Association.
The fair, held during Native American Heritage Month, was hosted by SJCC's Veterans Program, the American Indian Council for Higher Education and Associated Students, who provided pizzas and refreshments.
Approximately 170 people attended the event and heard various speakers promote their programs. Goodwill and Nova/Workforce touted job training, while college representatives from DeVry and National Hispanic University described services available for veterans at their campuses.
There were also song and dance performances by San Jose Native Youth Empowerment Dance Group, which included jingle dress and fancy shawl dancing.
During the year since the first Veterans Resource Fair, the SJCC Veterans Program has reached two of its three original goals.  There is a website and a veterans club.
"We have resources on the website, and we have been bringing resources to the club," Chiem said. "We have been bringing speakers from different agencies."
The third goal is to have a Veterans Resource Center.
SJCC Veterans Club President and Psychology major Wendy Lone Bear said previous plans for the center fell through, but she said she will help prepare a new proposal and meet with administrators later in the fall semester.
"I'm hoping to develop a cohesive veterans community here by trying to get a place to bring us all together," Lone Bear said. "I would ideally like a small area where we (veterans) could sit down and do some peer-to-peer resource sharing."
Lone Bear said that it can be difficult for veterans with post traumatic stress disorder, and older veterans, to study at school, and a veterans resource center would offer a quiet study space.
"It's hard (for a veteran) to work in the library or Student Center," Lone Bear said. "With a resource center, we can help each other out and have a quiet place where we can sit and focus with familiar people."