Talk to have better grades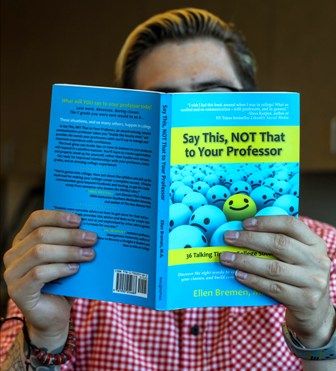 You think reading all the required books and doing homework all night are the only ways to get good grades?
Ellen Bremen's book, "Say This, NOT That to Your Professor," shows students how to communicate effectively with their professors and make a huge improvement in their grades.
Bremen, a communications professor with 14 years of experience, gives solutions to specific issues students encounter.
The author includes real life stories and constructive advice. Typical issues such as late work, procrastination, arriving late or leaving class early are discussed in detail.
In the chapter "Late Work," Bremen explains how a question such as "May I turn in this assignment late?" is unacceptable.
Rather, she gives a list of more effective ways to communicate with professors. However, her last piece of advice is to never submit late work.
Bremen's goal for the book is to help students "discover the right words to improve (their) grades, manage (their) classes and build communication skills for life."
The book is more like the diary of a professor. It takes students inside the faculty mind.
With 36 talking tips, Bremen helps students understand the people who grade their papers.
She wrote in her book, "College is the ideal place for you to practice excellent communication, and professors are among the first people in your life you'll interact with as an adult."
Perhaps the idea of talking to the professors might be daunting at first. All professors were once students, and if students can communicate effectively and convey their concerns, thoughts and problems to their professors, they will receive much-needed help.
Bremen's advice applies to students taking online courses as well. Students who only communicate with their professors via email will love the "Dealing with E-mail/Social Media/Technology" chapter.
The price of $15.95 is nothing compared to the invaluable lessons readers get from this book. It is a must-read for any student.
"Say This, NOT That to Your Professor" is a bible for students who want to do well in college.