March against budget cuts
Jerica Lowman
April 25, 2012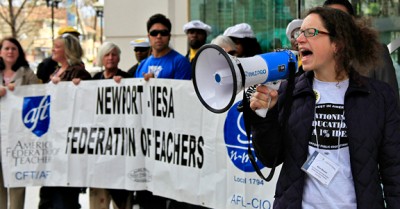 Teachers, students, and union workers from around California gathered at Plaza de Cesar Chavez Park in the middle of downtown San Jose and marched to City Hall to speak out against budget cuts on Friday, April 13.
"We hope to bring more attention in the idea that we have to invest into education, we have to bring education into the reach of the masses," said David Yancey, SJCC history instructor. "In California, we are slowly moving students into obscurity."
The mile-long march to city hall was enthusiastic, and shouts of encouragement could be heard throughout downtown, including, "When teachers and students are under attack, what do we do? Stand up, fight back!"
"The goal of this march was to tell (San Jose Mayor) Chuck Reed that workers' pensions should not be attacked and not be compromised," said Barbara Hanfling, Executive Director of the Faculty Association. "I always believe that when people's voices are heard, the people up there (City Hall) hear them."
After the march, there was a rally in the plaza with speakers from unions and school districts. Teachers and students from not only colleges, but elementary schools, junior highs and high schools gathered to listen.
"The key message that we were trying to get across was that education is not a privilege, but a right," said Neil Silverman, a teacher at Independence High School. "Education should be fully funded by tax dollars."
Unions came to support the teachers and students. The unions included The United Food and Commercial Workers, which according to its website, consists of 1.3 million members standing together to improve the lives and livelihoods of workers, families and communities.
One topic during the speeches was about the petition going around colleges to raise the minimum wage in San Jose to $10 an hour from $8 and with many college students having to now pay more for units, this goes right along with the budget cut crisis.
"They're asking you to live on $8 an hour and pay $46 per unit for classes," said Khalid White, Black History instructor. "That's six hours of working for a minimum wage job for only one unit, not even a full class. It doesn't make sense."
Students stood by teachers and union workers and voiced their opinions on the unfairness of the budget cuts.
"I want the rich to be taxed and have at least part of that money put into education so it can be better in California," said Evergreen student Yasmin Garcia, 20, criminal justice and sociology major. "I want to have my voice heard, and I want to make a change."
"I'm really passionate, and I'm really proud of myself and happy that I'm a part of this," said Evergreen student Maria Pina-Carrasco, 29, business administration major. "It's making me learn more about what I can do for my community versus when I use to limit myself."
In the end, no matter what race, gender, sexual orientation or social status, everyone came together to fight for their rights.
"One rally won't change the conditions in San Jose and is certainly not going to bring more funding to higher education or K-12 education," said Joshua Pechthalt, president of the California Federation of Teachers. "It's part of building the kind of
movement that we need to build in order to make spending for our community a priority."
About the Contributor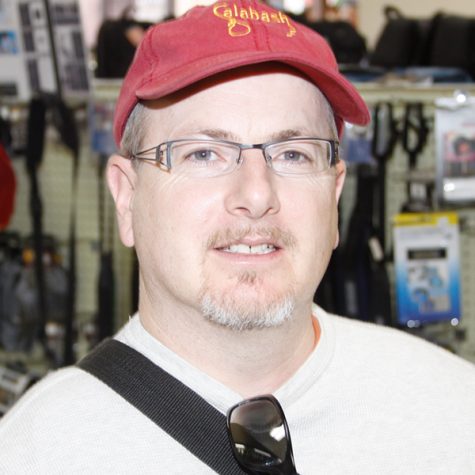 Steve Hill, Copy Editor
Hi, I'm Steve Hill. I have a B.S. in Ecology and Evolutionary Biology from UCSC, and I would like to do graduate work in photojournalism. My interests...