Santana Row spot draws large crowd
Olivia Payne
November 22, 2011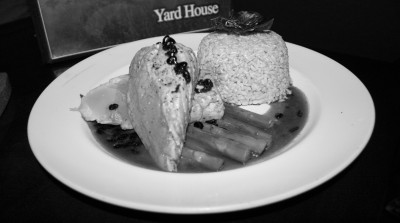 The Yard House is Santana Row's newest restaurant. The upscale eatery offers 130 taps of imported, craft and specialty ales & lagers.
The restaurant was crowded and there were people waiting to be seated. Luckily my colleague arrived early and got a table for the rest of our party.
For appetizers we started with Truffle Fries ($3.95) they were seasoned and topped with shredded parmesan, Sweet Potato Fries ($3.95) and a Tower of Onion Rings ($3.95).
The appetizers were served timely. The creamed maple bacon dip that accompanied the Sweet Potatoes did not blend well. We tasted cream and maple but we did not taste the bacon in the sauce.
The Truffle Fries were everyone's favorite; they were lightly crispy with the perfect mount of seasoning and parmesan.
The Tower of Onion Rings was incrusted in parmesan and had a small hint of rosemary from the spring they used in the presentation of the tower. The Truffle Fries and Tower of Onion Rings were fried but not greasy.
For dinner we ordered a Pan Seared Ahi ($23.95) seared rare over brown rice, fresh asparagus, Chinese black bean sauce and fried basil, a Pepper Crusted Filet ($29.95) 10 oz filet with parmesan mashed potatoes, asparagus, carrots and a pepperoni and sausage pizza ($11.75).
The Pepper Crusted Filet was juicy, tender, with a spicy spark at the end. The filet was prepared to perfection.
According to one of my colleagues the Ahi was good for the first six bites. On the seventh bite the Chinese black bean sauce dominated the flavor. The chef put too much ginger in the sauce. The pizza was greasy and not a crowd pleaser.
We ordered a six-pack sampler of Belgian's best ales. The six pack offered small samples of the ales, our favorite was the Gulden Draak ale. It was complex and spiced with a fruity finish.
Our service was excellent. Our server's name was Rachael she got our drink and appetizer order out efficiently and then had to go on her lunch break.
Spencer took over our table for Rachael. He was attentive to our drink refills and kept our table clear of any unused dishes.
The restaurant has dim lighting with TV screens and booths wrapped around the bar. The booths are large, and offer great space between you and your neighbors.
For our listening pleasure, the Yard House played classic rock throughout the restaurant. The music was loud.
In ladies room there was an overflow of dirty paper towels that were spread all over the garbage area. There were two toilets unlashed with floaters. The bathroom sink was soaked with water. On the other hand the gentlemen's room appeared to be spotless and impressive according to my male colleagues.
Overall we had a good experience despite the messy bathrooms and over powering flavors.
Rating: 4 out of 5 Freddies