International students face steep tuition increase
Tuition will be an additional $1600 more per year for full-time International students starting in the fall
A 23 percent increase in tuition approved by the Board of Trustees for non-residents is the most expensive increase in the last ten years, according to the District Board and data that was provided by the Program of International Students.
Before this spike, the highest tuition increase happened in 2019-2020 and represented a 14 percent surge from the previous academic year.
This new increase will affect over 800 non-resident SJCC students that face unique challenges because they are from other states or foreign countries, and who may also have irregular immigration statuses.
Starting in the fall, students will go from paying $290 for each unit to $358 per unit, which means an increase of $1,632 additional dollars to their current payment as international students. International students are required to take at least 12 units per semester.
This financial situation will economically impact Elly Zhen Ying, who is currently considering education alternatives, since international students are only allowed to work within the school for 20 hours per week at the current minimum wage.
"Well, I'm trying to get a second part-time job on-campus at a reading or writing center as a student tutor. But as you know, we are only allowed to work a maximum of 20 hours a week," Zhen Ying said. "So, the income through the on-campus jobs compared with the increase is way too small a piece of cake."
My Nguyen and Mark Illano, students at Evergreen Valley College, said they and their fellow students were disappointed by the Board of Trustees decision to raise tuition fees for next semester. Although international students make-up just three percent of the on-campus population, Nguyen and Illano said they feel like they are being targeted and shouldering an unfair amount of the blame for student debt.
"I don't know why they target non-resident students when we are three percent of the school," Illano said. "Why does it feel like all the burden on operational cost is on less than three percent of the school we use the same classrooms and facilities?"
Valeria Herrera Vazquez, along with other students, gathered around 200 signatures for a petition to stop the tuition increase through change.org, conducted a comparative analysis of the costs of other community colleges and attended board meetings.
But it was not enough.
From her perspective, the trustees were unable to offer a sufficient explanation of why they could not maintain lower tuition and keep college accessible for students of all financial backgrounds. Herrera said she felt that the Board Attorney also did not provide a clear justification about why the Board of Trustees could not keep the same amount in the cost of the tuition or a lower percentage.
"The lawyer did not mention any legal recommendations, or anything rather than just say let's follow and approve this restriction," Herrera said. "So, we were left out in the dark with what would be the implications."
Herrera, a Peruvian citizen, said she came to the U.S. to get a higher education and a better life with more opportunities. Her father is currently working two jobs to support her studies in the U.S. and that she also has a part-time job at the International Student Program to cover her daily expenses.
After saving up the necessary amount needed for her studies for the upcoming semester, she said that she felt that her goals were within reach. Now, because of the tuition increase, she is not quite sure how she will get the extra money to continue her education here at SJCC and might have to look at different schools with more affordable tuition fees.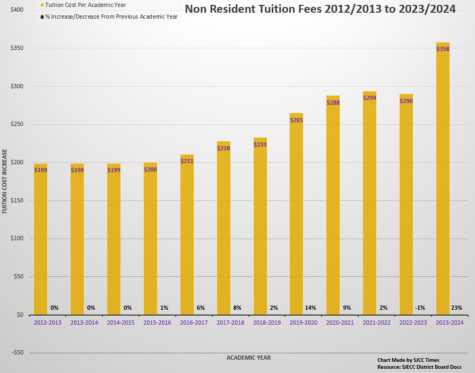 Zhen Ying said she left China to study psychology and is now a student at SJCC. She said she was shocked when she heard about the tuition increase. Zhen Ying already works at the International Student Program, but said she will need a second part-time job as a student tutor because the money is not enough to cover her daily expenses.
International students cannot access financial aid from the state or federal government because one of the requirements is being citizens or residents, explained Takeo Kubo, Director of Financial Aid and Scholarships at SJCC. Kubo said that there are few scholarships in which citizenship is not a requirement and they are the ones that foreign students can access.
"I would recommend that students look for scholarships that don't have any kind of citizenship requirements (…) There may be some scholarships that would say that it is available for international students," Kubo said. "Most of the time, it won't say that specifically. But those are some of the things that students can look for."
Kubo said that each student has a different economic situation, so each financial aid application must be analyzed individually with interested students.
This increase also impacts the International Student Program at SJCC, said Joell Serrano, International Student Program Specialist, who explained that due to COVID-19 the number of students decreased to only one. This last semester things were starting to look better for the program as the number of students increased to 40 and it is now currently at 150.
Under the new tuition hike, new applicants must prove that they have $25,000 to cover their expenses to be able to study at SJCC, a situation that once again may diminish the number of applications from international students.
"We were trying to increase, and we thought that we would continue to increase admission, acceptance, and enrollment," Serrano said. "However, with this new policy, or this new tuition rate, the students may have to look at different choices and consider their different choices because there's over 120 colleges in California that they can choose."
Donate to City College Times
Your donation will support the student journalists of San Jose City College. Your contribution will allow us to purchase equipment and cover our annual website hosting costs.