SJCC and Second Harvest Food Bank partner to distribute free food
Events will occur twice a month through November
San Jose City College and Second Harvest Food Bank have joined forces to host drive-through grocery giveaways.
The twice-monthly distributions began on July 8 at the SJCC campus in staff parking lot C.
"This is a partnership with the college and Second Harvest," said Vice-President of Student Affairs Roland Montemayor. "We'll be here every second and fourth Wednesday (of each month), and we're hoping to have it all the way through November."
According to the ASG website, no student IDs are required, and the events are open to everyone. Registration is required.
"We (Second Harvest) sent food for 700 households. That's 22,000 pounds of food," said Amy Kaiser, Director of One Community at Second Harvest Food Bank.
Kaiser said each household will receive four boxes of food.
"The frozen items are chicken leg quarters or ground turkey and (there is) a box of fresh produce," Kaiser said. "There is also a box of what we call 'cooler items,' which has milk and eggs in it, and then we have our dry box, and it varies. It can be things like pasta and cereal."
An army of approximately 40 volunteers registered clients, directed traffic and loaded boxes of food into waiting cars.
"About half the volunteers are from SJCC and half are from Second Harvest, who provided technical support (for the first food distribution on July 8)," Montemayor said.
SJCC student ambassador Cara Parker was directing traffic at the first giveaway.
"I'm glad we can keep it (food giveaways) going," Parker said. "We know people are hurting."
Montemayor wrote in an email on July 14 that many families may not have needed food banks in the past.
"The guests reflected the entire Silicon Valley community and — because of the pandemic — included many families and community members who came to a food distribution for the first time," Montemayor wrote.
Program Coordinator for Student Development and Activities Juan Garcia said he was glad to be back distributing food.
"This is our first time back since March. It's good to be back." Garcia said. "We haven't done this before. We're used to serving 600 students in a week. Today we're hoping to serve over 600 families in a day."
Montemayor said there will be a total of three sites for food giveaways within the San Jose Evergreen Community College District. The two other sites are located at Evergreen Valley College and one at the Milpitas Extension. All are open to the community.
"Our district's mission is to reach out to the communities and to be mindful of equity, opportunity and social justice," Montemayor said. "We're living it by doing this."
About the Writer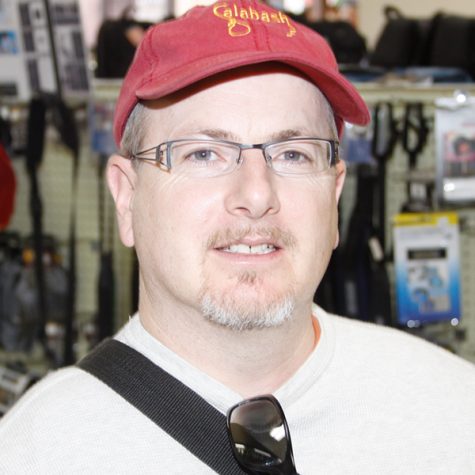 Steve Hill, Copy Editor
Hi, I'm Steve Hill. I have a B.S. in Ecology and Evolutionary Biology from UCSC, and I would like to do graduate work in photojournalism. My interests...