[media-credit id=21 align="alignnone" width="400″]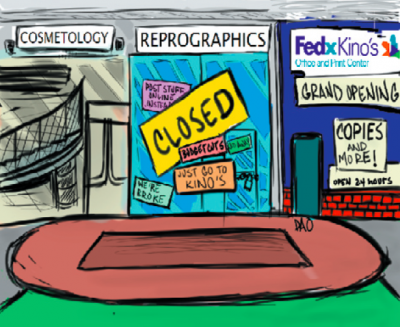 [/media-credit]Any student that walks on campus will immediately notice San Jose City College's reputable cosmetology department, high-class tech building and beautiful Caesar Chavez library; however, many fail to acknowledge the Reprographics department.
It is an unknown resource to students, but a powerful entity for teachers. Jeff Fasbinder, District Graphic Designer, said the bulk of the time of the staff goes to the teachers on campus'.
"The staff in this department are really dedicated, they go above and beyond the call of duty," said Fasbinder.
With a six person staff at SJCC and two more at Evergreen Valley College, Fasbinder said the cutbacks proposed by the district could shut it down. "It has been mandated to Reprographics that we need to start charging back for printed materials," said Fasbinder.
Story continues below advertisement
"The likelihood of complete success in covering both material (costs) and salaries may price us out of the market. If we are able to simply cover our material cost, we will be far, cheaper than any place on the outside."
He said in July the department is proposing to start charging for black and white printed material but "none of this is carved in stone.
Fasbinder said all teaching materils are provided through the department, and most students do not even know that.
"I just walked by there yesterday and wondered what it was," said Gina Johns, 33, environmental science major.
However, Johns said this seems sneaky, "so next they will just put a (FedEx) Kinko's there, have them be run independently and charge them rent."
Fasbinder said it comes down to simple economics, and whether or not "they (teachers) can get their classroom materials printed more cheaply on the outside."
Chancellor Rita Cepeda said it is clear that the reprographic services are central to the work of faculty and staff.
"We have been discussing for nearly 18 months how best to streamline reprographic services, reduce costs and increase budget accountability while maintaining services," Cepeda said.
"I think people will stay for the convenience," said Katie Weller, Student Life program assistant. "They do a very good job and they are very affordable now… (FedEx) Kinko's is expensive."
Though Fasbinder said students often wander in for stamps and change, the department is really mainly a helpful place for teachers on campus.
"My gut tells me that we are probably not going to be asked to cover salaries because even the powers that be understand that it would effectively close us down," said Fasbinder. "We are very convenient, we have very good reputation and we are lovable."