Feel the music, see the dance  
Analicia Najera
May 17, 2011
Hang on for a minute...we're trying to find some more stories you might like.
[media-credit id=7 align="alignnone" width="400″]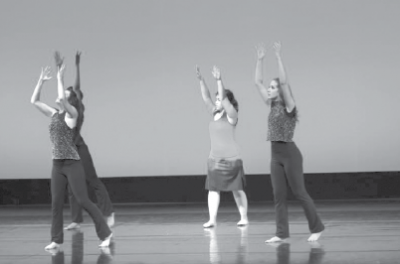 [/media-credit]Students came together for three nights to showcase their dance styles to ballet, modern, jazz, ballroom and hip-hop music at the "Together WE Dace" concert in the San Jose City College theater on May 5, 6 and 7.
The dancers performed the technique and choreography they have learned from their instructors throughout this semester.
Amber McCall, artistic director of the dance program and instructor of the ballet and modern dance classes has been teaching as the only full time dance faculty at SJCC since the fall of 2008.
"I was very pleased with the student's performance and the dance choreography," Mc Call said. "I stress to the students the importance of taking dance seriously while still having fun and enjoying the process."
Jazz, hip-hop and ballroom Instructors include, Carol Abohatab, Samantha Giron and Lucy Yoo.
There were 12 pieces of various dances that were performed. Including three artistic solo dances from student choreographers, Ashley Austrie-Brown, Michelle Viegas and Amy Elizabeth Warren.
These student dancers learned how to put together dances from a choreography class they have taken last spring.
All their hours in the studio paid off because the dances were eye catching. From matching vibrant colored outfits to male dancers carrying their carrying their partners on their shoulders, it was perfectly fit to the tune of the their choreography and song.
"I liked dance class because I met a lot of talented new people," said Maggie Martinez, 18, journalism major.
McCall recommends for next semesters aspiring performers to take a dance technique class. Such as ballet, modern or jazz because it will build one's movement skills and coordination.
"Many of our students are getting in their first dance class experience here at SJCC," said McCall. "I think all of the classes can be inviting and accessible to beginners. Yet we also have ways to challenge the more advanced students."
For anyone interested in performing for the fall concert can take the dancer's workshop that will be available Monday and Wednesday afternoons.

Print