College journalists compare notes, compete
Noe Magana
November 17, 2015
Hang on for a minute...we're trying to find some more stories you might like.
SJCC students travel north to showcase school newspaper
Two awards were given to the San Jose City College Times at the NorCal Journalism Association of Community Colleges Convention.
SJCC Times newspaper was awarded first place in Student Designed Advertisement and fourth place in Informational Graphic in the JACC Convention in Sacramento State University on Nov. 7.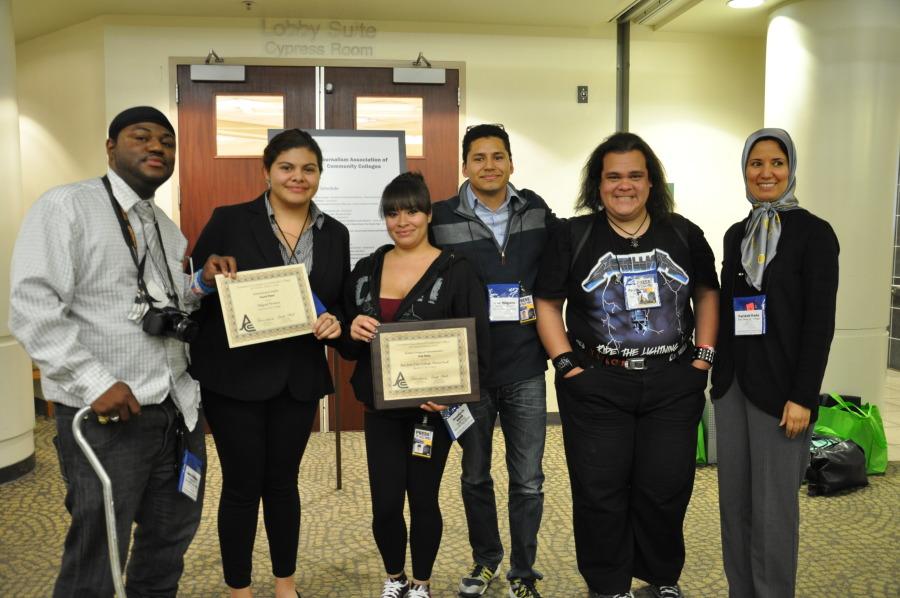 SJCC was represented by Graphic Designer Patrick Jenkins, Photographer Darrick L. Hurd, Photo Editor Stephanie Smith, Editor-in-Chief Araceli Lopez, Managing Editor Noe Magana and advisor Farideh Dada.
The convention was an all-day event where students from many Northern California community colleges had the opportunity to interact with student journalists from other schools.
The convention featured "On-the-Spot Contests" where students competed against each other in the five categories; news writing, opinion writing, copy editing, photography and editorial cartoon, and workshops where students took a crash course on different journalism aspects.
A workshop for the editors was offered where they exchanged experiences and struggles along with suggestions on how to solve certain problems most school newspapers were facing.
"We are not alone," said Lopez pointing out that the challenges SJCC times editors face in publishing a newspaper are also being experienced by other editors in neighboring colleges.
Along with workshops and contests, the student journalists were also allowed to speak to the Co-Presidents of JACC Joseph Daniels, representing NorCal, and Evan Solano, representing SoCal, about their concerns regarding structure of event, contests, judging of contests, communication within the organization, rules and policies of upcoming conventions.
Before the workshops and contests took place, students and advisors attended the keynote speech by Cristi Hegranes.
Hegranes spoke about her definition of journalism and why she founded Global Press Institute in 2006, an institution that trains women in developing countries to become reporters.
"As a journalist entrepreneur, you cannot only find success, but you can really change the discipline of journalism," Hegranes said during her speech.
Hegranes spoke about how journalism needed a new perspective. She said outside reporters are limited on what they could report because they did not know exactly what was happening in any given community and had limited sources.
For this reason, she believes having reporters from the community can be more effective because of their close ties to the members of the community and it allows the reporters to be more trusted by their sources.
"To see the power of investigative journalism in developing countries and the difference in makes in the lives of its citizens is just phenomenal and inspirational," Cindy McGrath said about GPI.
After the conclusion of convention, SJCC students took the opportunity to celebrate the achievement taking pictures with their awards.
"We won two awards this past semester and we've won dozens more in the past semesters," Lopez said. "This proves that we are doing something right. It shows students are being recognized for their hard work that they are portraying in the newspaper."

Print