Jaguars turn ball over, lose opener
Noe Magana
November 17, 2015
Hang on for a minute...we're trying to find some more stories you might like.
SJCC men's basketball cannot keep up with Merritt
An early 12-point lead in the first ten minutes is not enough for San Jose City College to hold off Merritt College in the opening game of the men's basketball 2015 Tip Off Tournament in a 81-74 defeat in SJCC on Nov. 5.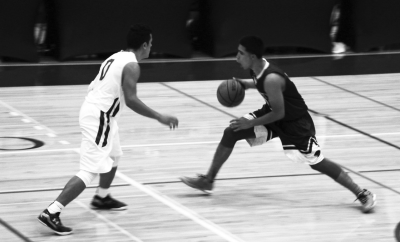 Merritt College crawled back and took a 12-point lead, biggest in the game, in the second half with 13 minutes, 30 seconds left leading SJCC 45-57 after ending the first half tied at 37.
"(We) stopped talking on defense, taking some bad shots, and a little bit of fatigue," said
Jaguars' forward Akil Douglas.
"Talking on defense out there mainly was the turning point." SJCC was led by returning sophomores Lucious Brown with 23 points and Douglas with 21.
Merritt took control of the game, but the Jaguars were not going down without a fight.
SJCC fought back to get the score to 78-70 with two minutes left and got within four points with 48 seconds left in the game.
Unfortunately for the Jaguars, that was as close as it got as they missed some tough, forced shots with the clock running down while Merritt hit its free throws to increase the lead and pull out the win.
"What made a difference was our defense. We didn't play a good enough team defense to keep pushing after we came back from a 12 point deficit," Brown said.
Freshman Kameron Vales, who scored nine points in the half scoring on all of his shot attempts; two 3-pointers and a 2-pointer and a free throw, was a big contributor for the Jaguars' big start.
The biggest problem the Jaguars were having throughout the game was taking care of the ball. SJCC ended the game with 16 turnovers.
"That's just not executing and taking care of the ball," SJCC coach Percy Carr said. "They
have to get better understanding how this basketball game is going."
Unlike the first half, The Thunderbirds took advantage of the Jaguar's turnovers and turned them into points that led them to come out with the win.
"We didn't play like I expected. I think it's because we have a lot of freshmen," Carr
said. "They are still taking their time to adjust to the way our system should be run."
In the second game on Friday Nov. 6, SJCC bounced back and defeated Lassen College 81-64.
The jaguars could not keep the good momentum going in the final game as they were held to 56 points by Foothill College in their 69-56 defeat on Saturday Nov. 7. SJCC finished off the tournament with one win and two loses.
Next game is scheduled at Canada College on Nov. 18 at 7 p.m.

Print