Photography professor performs in concert
Hang on for a minute...we're trying to find some more stories you might like.
MacGowan returns to stage after 15 years of absence
Ciaran MacGowan, photography professor at San Jose City College, performed at the Tabard Theater in downtown San Jose on September 22.
About 50 attendees were treated to live music for more than two hours. The band's routine included "Everybody's Talking" (Harry Nilsson), "Una Nota Samba Sol" (Carlos Joabim) and "Fly Me to the Moon" (sang by Frank Sinatra and written by Bart Howard) with some songs that were written by MacGowan when he was pursuing a record deal.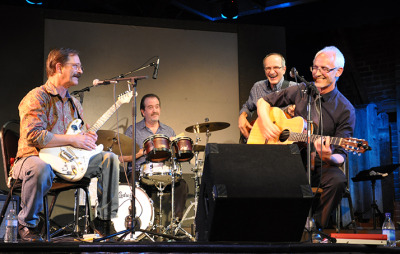 "I'm feeling elated because that was a good performance, and I believe we got a good audio recording and a good video recording," MacGowan said. "I'll be able to use that to show other promoters and hopefully use this as a spring board to better and bigger concerts."
MacGowan was front and center on stage with his guitar. Accompanying him on the left of the stage was his long-time friend Robert Soper, 62, on his electric guitar. On the right was Alex Baum playing bass and behind all three was Ken Owens on drums.
Soper said he knows MacGowan since 1985 when they met in San Francisco through some mutual acquaintances.
"We both enjoy playing so we'd get together for an evening and have some dinner and always the guitars would come out," Soper said.
In between songs, MacGowan told the audience that he had not played with Soper in a long time, on stage, and never with the rest of the members of the band. For this reason, he needed to turn his guitar toward the band in order for them to know where he was going with the song even though most of the time he didn't know himself.
"He is willing to go anywhere and do anything," Soper said. "On stage, with music, you're not going to get hurt so it's just a lot of fun if you're with the right people that can go off with him."
The photography professor, indeed, was willing to go wherever the music took him; there were instances where he showed off his whistling skills in tone with the guitars. He also sang in French and between songs, he squeezed in some jokes involving the band or the audience.
Many SJCC students showed up to support their professor. They did not sit and observe the performance. Instead, the students saw the event as a great photo opportunity and brought their cameras to put in practice what they have learned in class.
"It's amazing. He is this kind of character in class. He is full of life," said Benjamin Castro, 28. "He is always making the class fun; joking around and making it comfortable for everybody."
Castro took MacGowan's film class last semester and is taking digital photography, Photoshop class and directive studies with him.
MacGowan took the time to meet and talk to the audience during a break in the concert. He walked isle by isle shaking hands and thanking everyone who came until it was time to go back on stage. When his performance was over, he, again, took the time to socialize with the people in attendance.
"I just love singing, playing and whistling," MacGowan said. "When I hear that my voice is mellifluous then I'm happy.

Print