'Danceology' hits the stage
Hang on for a minute...we're trying to find some more stories you might like.
Students hope practice pays off
Can you feel the funk that the Dance Department of SJCC is putting out?
If you can't feel it yet, you certainly will when they present Danceology, their performance that is set to take place on April 30-May 2 at SJCC in the Theatre
"This dance concert has a variety of dance forms: ballet, jazz, modern, tap, hip-hop, and musical theatre," choreographer Holly Brosius wrote in an email.
[media-credit id=1 align="alignright" width="400″]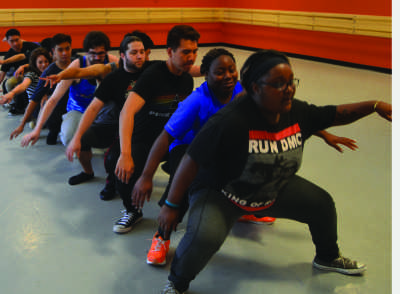 [/media-credit]The students auditioned for placement in the performance and have practiced since February.
For some students this will be their first time performing in front of an audience. This has led to some pre-performance jitters.
"I feel nervous," Ryan Garcia, a 20-year-old biology major at SJCC, said.
He said that he doesn't know how he'll handle the pressure of having an audience watching and he hopes that he does not forget any of the steps that he has learned in practice.
More experienced members of the dance team are excited to show off their skills in front of an audience.
Melissa Mendez, a 20-year-old broadcast journalism major, said she is most excited for tech week, where students rehearse the performance in its entirety with costumes, makeup and the technical elements that are incorporated in the show.
Garcia and other members are happy to show off "The Boat," a move that requires everybody on the team to participate.
"It took a long time to get down," said Garcia. We've been working on it since the very beginning.
Mendez and the team said that they have posted fliers everywhere around school and posted on social media in hopes that lots of students will come watch the show.
"Come enjoy the show," said Koua Xiong, a 21-year-old business major at SJCC, "Hopefully it'll inspire everybody to come and dance."

Print