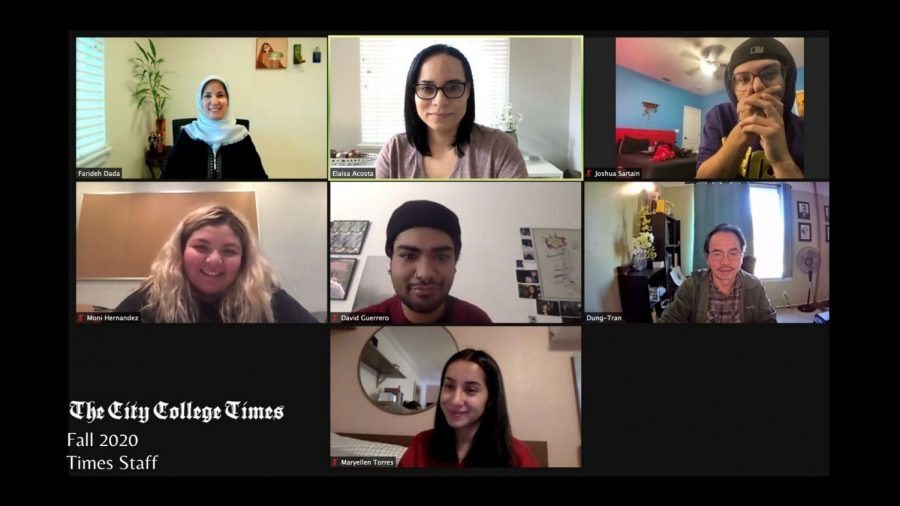 The Times was founded in 1956 and is the student-run newspaper at San Jose City College.
The City College Times staff is made up of a diverse group of San Jose City College students and the Times is a key forum for news, information and opinion.
The paper has been printed every semester for more than 60 years.
Times Staff
May 28, 2020

City College Times staff share their final thoughts on the Spring 2020 semester

(Story)

May 28, 2020

Speak Out: Community responses to Covid-19

(Story)

May 26, 2020

What is the first thing you will do once quarantine is over?

(Story)

May 26, 2020

City College Times staff discuss their plans for the future

(Story)

Apr 21, 2020

City College Times wins at state journalism convention

(Story/Media)

Apr 15, 2020

City College Times staff describe shelter-at-home experience

(Story)

Mar 14, 2020

City College Times a winner at journalism convention

(Media)

Feb 28, 2020

Meet the City College Times staff

(Media)

Nov 06, 2018

A difference in the American dream

(Story)

Dec 08, 2015

Corrections: Nov 17, 2015

(Story)

Dec 08, 2015

Sports Calendar: Dec. 8, 2015

(Story)

May 16, 2013

Vice President of Student Affairs may leave

(Story)

May 14, 2013

Track and field pursues state championship

(Story)

May 14, 2013

Golf team bogies at NorCal tournament

(Story)

Jan 30, 2013

SJCC Emergency Preparation

(Story)

Dec 18, 2012

Breaking news: Report of an armed gunman on campus puts SJCC on lockdown

(Story)