[media-credit id=55 align="alignnone" width="400″]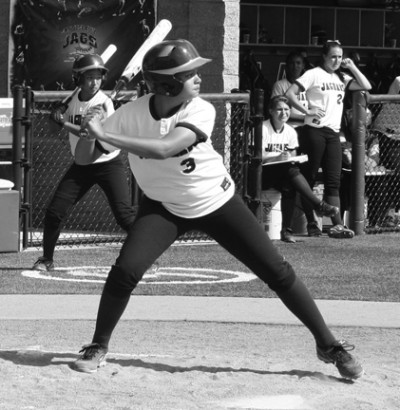 [/media-credit]SJCC Lady Jags team captain and first baseman Lena Foster (No. 3) focuses on getting a run against Monterey Peninsula College on April 24.
The San Jose City College softball team ended its home schedule with a 6-4 loss on Tuesday, April 24 against Monterey Peninsula College.
Head coach Debbie Rooney said that overall the Tuesday afternoon was a good game.
"The defense played very strong throughout the game," Rooney said. "We were able to play smart and get out of tough innings."
Rooney said this is her 21st year coaching at SJCC, and she has enjoyed every minute of it.
Rooney mentioned that the team has been working on good controls (having good control of technique) and practiced on real-game situations for regionals at Ohlone College on Saturday, May 5.
Lindsey Maves, 21, kinesiology major, plays right and left field.
Maves said Tuesday's game was not one of her best, but overall it was a good season for her and that hitting is something she wants to work on.
Maves plans to transfer to University of San Francisco to finish school and start her career along with two other teammates, Lena Foster and Kristina Meneses.
She said softball might not continue for her after this year. The thing that Maves likes about playing for SJCC is the friends she has made.
Kristina Meneses, 19, kinesiology major, plays second base. Meneses said that allowing too many runs was what cost them the game; but overall, it was a good game.
"The team came out very strong that day," Meneses said. "And the team's defense was definitely on top of it."
Meneses also mentioned that even though the game did not go as she expected, the team still had the advantage of scoring early.
"At the end it was most upsetting because I thought we were going to win," Meneses said. "Everyone did play aggressive; and even though we lost, I still had fun."