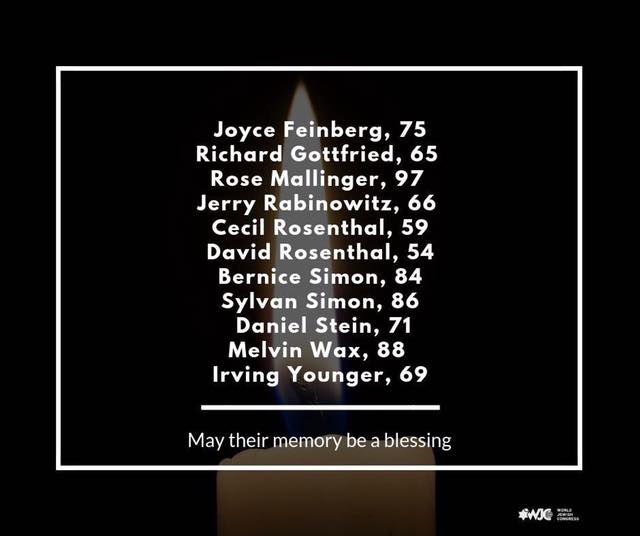 World Jewish Congress
Campus Family:  
I am heartbroken, devastated, shocked, disgusted and worried about the slippery slope. 
My stepson, who is not Jewish, lives in Pittsburgh, in Squirrel Hill, and works at a music school for youth directly across the street from the Tree of Life Congregation, where he was teaching on Saturday morning, Oct. 27, at 10:20 a.m., as the massacre was taking place. He is fine, if shaken up. He told me about how his school was on lockdown; and how, without knowing much of what was going on outside, everyone seemed to cohere, children, parents, teachers, caregivers. How what was clearly most important was that they were simply near each other, everyone, in community.
Lately, well before this latest massacre, with all of the other massacres, and hate parades, and police profiling and brutality, and governmental turn-of-affairs, I've been feeling fairly demoralized teaching Critical Thinking. Used to be I'd feel proud when we'd learn about the underpinnings of government; the U.S.'s reasoned choice for a nascent Democracy; how the Declaration of Independence, despite what some consider to be its rhetorical limitations (e.g. "all men"); and, importantly, the actions of some truly fearless souls could ultimately spark the Civil Rights and Labor and Women's and LGBTQ movements. 
Used to be I'd see what seemed to be natural and inevitable progress. I just always assumed that freedoms would remain free, and beget more freedoms. Reading and discussing these texts and concepts now, well …  I wonder what teaching critical thinking will look like in 10 years, 50 years, 100 years – let alone next week. 
To use a cliché: Time will tell. We'll only know when we see it as an overview – the country's rises, falls, and, god-willing, rises again. Maybe such changes are even more inevitable than freedoms granted. 
 At times in my life, and especially now, I have thought about those days after the Weimar Republic and before the Holocaust – from which my Jewish family was saved because of their earlier immigration from Hungary to the U.S. in the 1920s. I have wondered how Jews and other scapegoats made their decisions to stay or leave their homes. 
I have wondered how those who were not targeted by the Nazis determined what kinds of actions they would take. I'd like to think that, constricted to a concentration camp, I would have been resourceful and hardy, would have maintained some kind of inner faith and belief in what is good. But I doubt it. 
I'd like to think that if I were a non-Jew, whether a mere citizen or a person with a modicum of power, I would have hidden and smuggled Jews, used any and all secretive and treacherous measures to keep innocent people alive.  Sadly, I also doubt that would be me. Because I'm just too scared. 
My skills and especially my bravery are limited.  Instead, I do this – use my many words to express something.  And teach.  Continue to teach Critical Thinking.  
Below, you will find the names of those whose lives were taken on Saturday at the Tree of Life. You will note their ages. At 97, Rose Mallinger was the oldest, and … it's unbelievable to write this … she was a Holocaust survivor.  
The New York Times published this opinion piece https://nyti.ms/2EWeb78 about how the members of the Squirrel Hill community are being and have always been "there" for each other in community, just as my step-son spoke of those people standing together at his music school. 
Let us all be there for each other, in whatever subtle and bold ways that we can be.
  Michelle Blair is an English Faculty at San Jose City College