Hate crime shocks EVC
New building defaced with Nazi imagery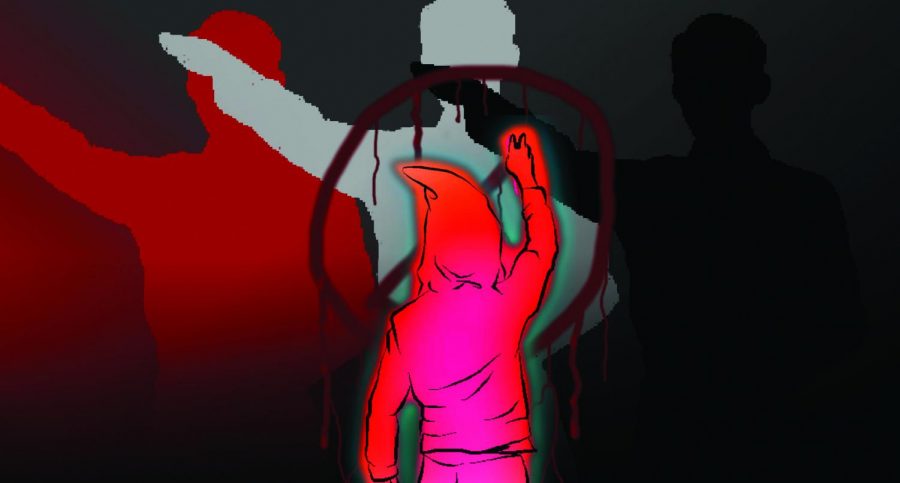 Gio Gaxiola
February 20, 2018
A district-wide alert was issued by SJECCD police on a hate crime discovered at Evergreen Valley College on Feb. 2, reigniting concern among students and about safety on campus.
In the new math and science building, a big swastika was found drawn in pencil on one of the bathroom stalls in the first floor men's restroom, along with the words "Hitler did nothing wrong."
Many students took offense to the vandalism, particularly its discriminatory message. The swastika has been adopted by modern hate groups as a symbol of the Nazi party's "white-supremacist" ideology.
"It's disheartening that such a hateful act could actually happen on campus," second-year EVC student Alyssa Navarro said.
This hate crime is just the latest of incidents that have pushed the district to consider safety on its campuses.
In November, SJCC's Cesar Chavez Library was burgled and vandalized in its second break-in of the year. And last summer, a SJCC student seeking a confrontation with his instructor was detained by police as he was heading towards the Technology Center carrying a taser.
"There can be more campus police present, and sweeps. As students, we must come together and support one another," Navarro said.
Custodians at EVC quickly covered the hate graffiti with paint.
Campus police are still trying to find a suspect and the motive behind the hate crime. They urge anyone who has information about this incident to come forward.
"School campuses should be a safe place, not the other way around," Navarro said.