An understanding world at peace
Hang on for a minute...we're trying to find some more stories you might like.
Professor in search of a united community 
Gerald Grudzen, 75, philosophy professor, has traveled around the world seeking education, community building and now religious acceptance within the different beliefs.
Grudzen said he attended the Parliament of World Religions in Salt Lake City, Utah, on Oct. 15 representing the delegation from Santa Clara County with the Silicon Valley Interreligious Council. Ten thousand people attended the meeting that represents all religious groups including indigenous communities.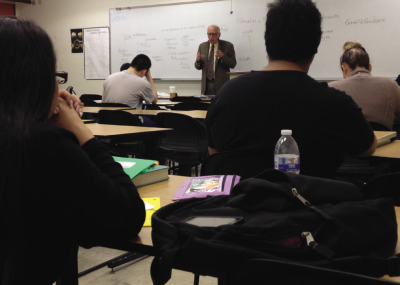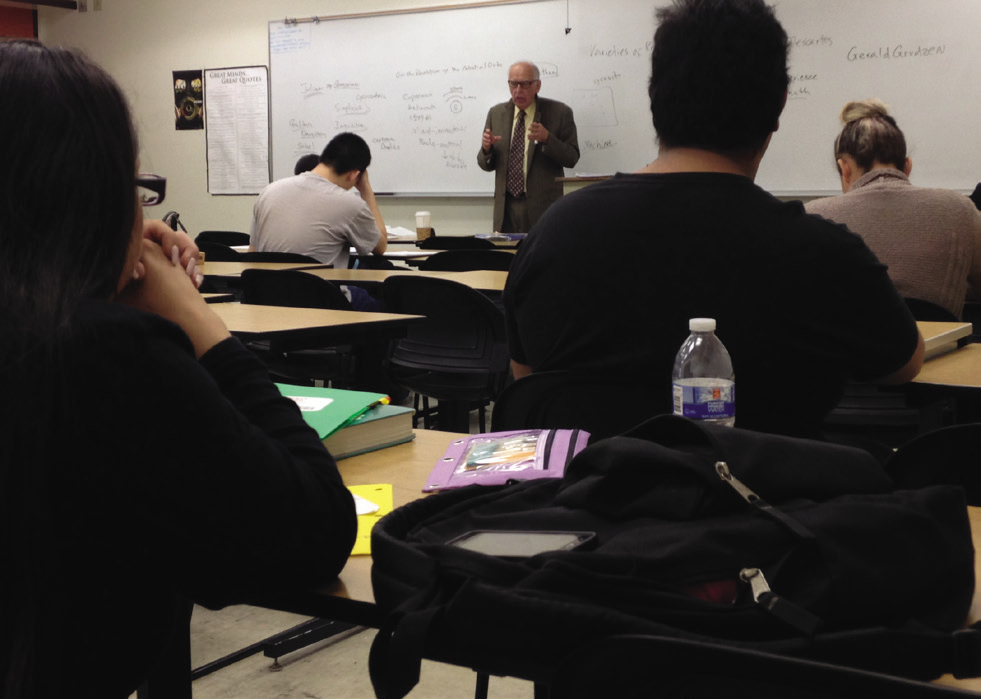 Grudzen said the SIVIC, "attempts to look at different issues which have spiritual or religious dimensions to them."

Grudzen said he was drawn to Latin America in the beginning of his career trying to train leaders on how to communicate with other leaders with different ideologies.

Also, he was involved doing community development work, building schools or educating communities how to respect other beliefs, for various countries, including Colombia, Mexico, Bolivia, Nicaragua and Venezuela, raising money for projects and attending conferences.

"(Grudzen is) very interesting, very easy to chat with. A pleasant and very intelligent fellow," said Sean Abel, Dean of Social Sciences.

Grudzen said his focus shifted toward the Middle East two months after he helped his daughter move into an apartment in New York.

"I was at home when my sister called me … and she said 'turn on the TV, the twin towers are coming down,'" Grudzen said. "I can remember turning on the TV and I said, 'I wonder where is my daughter.'"

Grudzen said it took 24 hours to contact his daughter who was working at a hospital treating injured people due to the Sept. 11 attack.

Although the attack in New York shifted the whole nation's attention towards the Middle East, Grudzen continued to work in other parts of the world to bring people together through understanding.

Grudzen said he and his wife travel to Kenya every summer where they have developed a course on interfaith intercultural dialogue and raised the funds to kick start the program five years ago. He and his wife train teachers and religious leaders on how to understand each other and get
along better.

"Interfaith training brings Christians, Muslims, Indigenous people, Hindus, all the different traditions or cultures represented in that area of the world and teaching them principles on how to get along better with each other," Grudzen said. "It's creating relationships of people across the divides that exist there."

Grudzen is also involved with Global Ministries University. This group is internet based and works in graduate school training with faculty throughout the world. The group also sponsors projects in Bangladesh and other parts of the world to bring people together and do interfaith training in areas of conflict.

Grudzen, a Detroit native, moved to the San Jose area after teaching in the East Coast because he was interested in a community economic development position in San Jose. In 1979, he was hired as the director of community development of Santa Clara County and continued to serve the county in different positions until 1998 when he began to teach at the University of Phoenix and then took a teaching position at SJCC ten years ago.

Erick Willis, 27, SJCC student, said he is taking his third class with Grudzen and believes the professor is very knowledgeable of the subjects and encourages students to take his class. "He really educates people on the core  meaning of the subject," Willis said.

Abel said Grudzen is interested in the SJCC students and wants to give them a broader perspective on global issues and, like Willis, encourages students to take his classes.

"The Community College has a vital role of educating our young people to prepare for all the challenges in our society, whether it's environmental (or) peace studies," Grudzen said. "Community College trains more people than any other institution, particularly here in California."

Print